2021 Cobbossee Colony Golf Course News
Dear Golfers,
Welcome to the 2021 Cobbossee Colony golf season.
The 2020 season was quite a bit different from past golf seasons, as were all other aspects of daily life. The course was successful in 2020, as golf naturally speaks well to social distancing, but otherwise we would just like to forget 2020 and press ahead. That being said, we intend to retain the use of tee times that was required of us in 2020. They actually worked well, despite difficulties in scheduling the back nine when golfers are playing 18 holes on our nine hole course. So, please call ahead for a tee time 268-4182. We are not high tech enough to have a social media platform in place that would allow you to register for tee times on line and don't foresee doing so in the immediate future.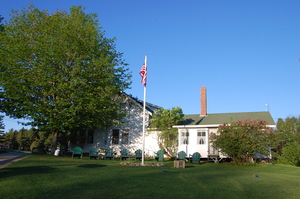 Hopefully, we'll have ball washers, trap rakes, water stations and benches in service at some point this year and you'll eventually be able to pull the flagstick from the cup should you want to. Until then, continue to wear your mask, social distance, wash your hands and get vaccinated. One of last years positive points was beautiful weather all summer long. That allowed Herb Whittier to play 9 holes of golf daily for 106 consecutive days. Some say that Herb must have taken over 7000 strokes in those 106 days, although he might disagree with that. He was never able to score a hole in one here during that stretch, because the course is so tough, but in December after he moved to Florida for the winter, he got his first hole in one on an easier Florida course. We expect that he will be breaking 40 for many of the rounds he'll play here this year.
We intend to keep all prices the same as last year, except for GHIN fees. The MSGA raised our GHIN fees by $3.00, so we have to follow suit. It will now cost $29 for a 2021 GHIN card from Cobbossee. This year, when you purchase a GHIN card, you will automatically become a member of MSGA, eligible to enter MSGA sponsored events. All prices for the 2021 season can be found on our pricing page. We do want to emphasize our cumulative membership, which allows you to pay off your membership as you play from opening day to 1 July. You just pay the daily fee as you golf during that period. We keep track of what you pay, if you remind us that you are "in the book", and on or about 1 July we will tell you what you have paid to date towards the membership. If you want to pay the balance at that time, you'll be a member. If you believe that it is not worth it to you to pay the difference, then you can just continue to pay the daily fee as you play the rest of the season. Some of the benefits of being a member are that rental carts and driving range balls are less expensive and you would pay lower greens fees at several other area courses.
We do have five play cards for both 9 and 18 holes which are a bit less expensive than the normal daily fee. And we have similar cards for the driving range (small and large baskets) which give you six baskets for the price of five. These cards make nice gifts.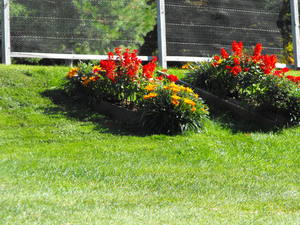 We again intend to have agreements with several other courses so that you can take your membership card to those courses and play 9 or 18 holes for a reduced greens fee amount We had agreements with five courses last year. Last year, in the spring, we offered $5 greens fees for nine holes to first responders (active or retired), educators (active or retired), front line workers, students, active military and veterans. It went over well and we will to do this again in 2021, from when we open through the end of June. After that, the fees will revert to our normal tourist prices.
Our after 5pm rate will continue to be $10 greens fee for all one can walk until dark, every day.
Winners of the 2020 President's Cup were Alison McMahon and Glenn Dakin. The 2020 Club Champions were, Stephanie Weber, Charlotte Hall (Seniora),: Ted Dennis, Colin Roy (Senior), Bill Rollins (Super Senior). Congratulations to all of them.
There were three holes in one at Cobbossee in 2020. They were registered by Mike Dunn, Dave Robertson and Jim Lord.
The 2020 Men's League winning team was comprised of Dustin Weber, Adam Randall, Glenn Dakin and Bob Coates. Glenn and Bob were on the 2019 winning team also. We owe a special thanks to Michelle Tanguay who ran the schedule, scoring and handicap system. Paul Tanguay's 2020 team did not finish dead last again, but were close, so it is obvious that Michelle did all the work by herself.
Buddy Rollins still has the modern day Cobbossee Colony course record of 29 for nine holes, as well as 60 for 18 holes.
Have a good golf season. Work on improving your game, maintain your sense of humor and continue to be kind to others.
&nbsp
&nbsp