2018 Cobbossee Colony Golf Course News
Dear Golfers,
Welcome to the 2018 Cobbossee Colony golf season. As of early February, the winter has been about four years long and I would not wish it upon anyone except maybe a couple of weeks of it to those of you relaxing in Florida. We have had a snow cover since the ninth of December and after Christmas, had sixteen days when the temperature never reached 20 degrees F. There were a lot of days where the temperature was at 0 degrees F or below. Welcome to Global Weirding.
We did have a good year in 2017, up until Columbus Day when a couple of morons spent the night driving their own cart throughout the golf course trying to ruin the greens. Number 2 green really suffered, but we hope it will recover by this spring. We will have game cameras in use this year. Our other vandal was the Halloween wind storm which knocked down over 150 trees. Most of them fell into the woods, with the important exception of a large oak that fell directly in the middle of the third green. The big ash tree guarding the seventh green didn't lose a twig.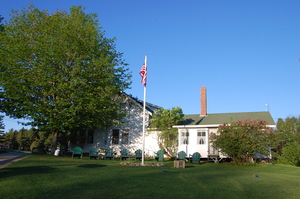 We intend to keep all prices the same as last year, no thanks to the Trump tax plan. They can be found on our pricing page. We do want to emphasize our cumulative membership, which allows you to pay off the membership as you play from opening day to 1 July. You just pay the daily fee as you golf during that period. We keep track of what you pay and on or about 1 July, we will tell you what you have paid to date towards the membership. If you want to pay the balance at that time, you'll be a member. If you believe that it is not worth it to you to pay the difference, then you can just continue to pay the daily fee as you play the rest of the season. Some of the benefits of being a member is that rental carts and driving range balls are less expensive.
We do have five play cards for both 9 and 18 holes which are a bit less expensive than the normal daily fee. And we have similar cards for the driving range (small and large baskets) which give you six baskets for the price of five. These cards make nice gifts.
We again intend to have agreements with several other courses so that you can take your membership and $10 or $15 to those courses and play 18 holes, driving carts extra. I think we had agreements with eight courses last year.
Our after 5pm rate will continue to be $10 for all one can walk until dark.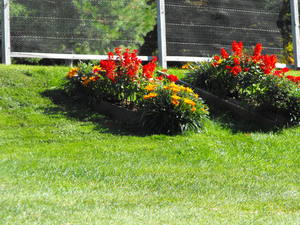 Winners of the 2017 President's Cup were Charlotte Hall and Paul Tanguay. The 2017 Club Champions were, Charlotte Hall, Bill Fairchild and Buzz Knight (super advanced adult). Freeland Smith took the 90 years and older contingent. Congratulations to all of them.
There were sixteen and a half holes in one registered at Cobbossee in 2017. Congratulations to Bill Rollins, Bob Grasse, John Smith, Gary Steinert, Daniel Gutierrez, Dick LaFrance, Jake Quimby, Justin Rollins, Dan Brooks, Fred Knee, Tyler Hardy, Paul Simoneau, Phil Hart, Ernie Dulac, Alison McMahon and Scott Lindholm.
Bill Fairchild got the half a hole in one when after finishing a round, he was demonstrating to his fan club how to properly tee off on #5 and hit the ball into the hole.
The Mens' League winning team was composed of Paul Tanguay, Ray Graham, Glenn Dakin and Bob Coates. Buddy Rollins, who already has the modern day course record of 29 for nine holes, established an 18-hole record score of 30 – 30 for a 60.
Have a good golf season. Work on improving your game, maintain your sense of humor and continue to be nice to others.
&nbsp
&nbsp
2017 Wind Storm
&nbsp
&nbsp