2022 Cobbossee Colony Golf Course News
Dear Golfers,
Welcome to the 2022 Cobbossee Colony golf season.
This season marks the 50th anniversary of Steve Sylvester's first year as the manager of Cobbossee. Although Steve has been gone for nineteen years, his good natured personality and humor still contribute to the ambience of this rather relaxed course. We think that his brother David may have been adopted.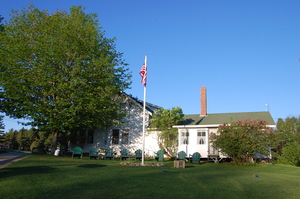 The 2021 season was similar to the 2020 season; quite a bit different from past golf seasons, as were all other aspects of daily life, but we're getting used to it. The course was successful in 2021, as golf naturally speaks well to social distancing, but otherwise we would just like to forget the last two years and press ahead. That being said, we intend to retain the use of tee times that has been utilized for the last two seasons. They actually worked well, despite difficulties in scheduling the back nine when golfers are playing 18 holes on our nine hole course. So, please call ahead for a tee time 268-4182. We are not high tech enough to have a social media platform in place that would allow you to register for tee times on line and don't foresee doing so in the immediate future. No new sand traps were added for the 2022 season, nor trees removed, but the birdhouse by the 4th green has been taken down and will be replaced. We have been informed by the builder that these large birdhouses, especially vintage ones, can be sold to customers from New York, or California for at least $4000. As this birdhouse came down rather hard, it would be appreciated by jigsaw puzzle fans as well as birdhouse collectors and for the first person to show up with $400 in small bills, it would be considered a steal.
We are combatting inflation by keeping all prices the same as last year, unless the MSGA raises GHIN fees again. When you purchase a GHIN card, you will automatically become a member of MSGA, eligible to enter MSGA sponsored events. All our prices for the 2022 season can be found on our pricing page, but note the Special Greens fee prices in the below paragraph entitled same. We do want to emphasize our cumulative membership, which allows you to pay off your membership as you play from opening day to 1 July. You just pay the daily fee as you golf during that period. We keep track of what you pay, if you remind us that you are "in the book", and on or about 1 July we will tell you what you have paid to date towards the membership. If you want to pay the balance at that time, you'll be a member. If you believe that it is not worth it to you to pay the difference, then you can just continue to pay the daily fee as you play the rest of the season. Some of the benefits of being a member are that rental carts and driving range balls are less expensive and you would pay lower greens fees at several other area courses.
We do have five play cards for both 9 and 18 holes which are a bit less expensive than the normal daily fee ( after 1 July). And we have similar cards for the driving range (small and large baskets) which give you six baskets for the price of five. These cards make nice gifts.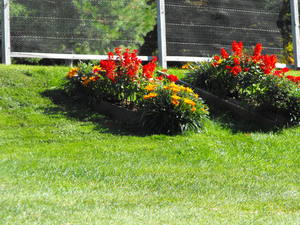 We again intend to have agreements with several other courses so that you can take your membership card to those courses and play 9 or 18 holes for a reduced greens fee amount We had such agreements with five courses last year.
Special Greens fee prices from opening day through end of June. For the last two years, in the spring, we offered $5 greens fees per nine holes to first responders (active or retired), educators (active or retired), students (active, not retired) front line workers, military and veterans. Greens fees for everyone else during that period were $10 for 9 and $15 for 18 holes. That special pricing went over well and we will to do this again, from when we open through the end of June. After that, the fees will revert to our normal tourist prices.
Our after 5pm rate will continue to be $10 greens fee for all one can walk until dark, every day.
Winners of the 2021 President's Cup were Charlotte Hall and Peter Dennis. Ed Zuis was runner-up in the men's President's Cup. The 2021 Club Champions were, Stephanie Weber (open) , Charlotte Hall (seniora), Buddy Rollins (open), Bob Grasse (senior), Lefty McAuslin (super senior). Congratulations to all of them.
There were four holes in one at Cobbossee in 2021. They were registered by Lefty McAuslin (2), Doug Grant and Lee Simmons.
The 2021 Men's League winning team was comprised of Bill Fairchild, Josh Dakin, Peter Dennis and Craig Dunn. Ed Zuis' team was second. We owe a special thanks to Michelle Tanguay who again ran the schedule, scoring and handicap system.
Buddy Rollins still has the modern day (since 1998) Cobbossee Colony course record of 29 for nine holes, as well as 60 for 18 holes.
Our listings of leagues, tournaments and other events follow. Have a good golf season. Work on improving your game, maintain your sense of humor and continue to be kind to others.
&nbsp
&nbsp