2017 Cobbossee Colony Golf Course News
Dear Golfers,
Welcome to the 2017 Cobbossee Colony golf season. As of the end of March, the winter has been a bit rough on the course. We have had a snow cover since the first week in December, which doesn't bode well for the healthy greens in April, or whenever the snow leaves. At least it is not 85 degrees, which our poor friends in Florida have been experiencing.
Due to the early onset of snow cover, the 4th men's tee did not get extended in December. It will be accomplished when it is dry enough to do so this summer.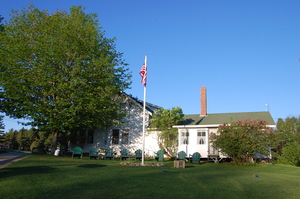 We raised the price of a membership for a single by $5 to $475 and a couple by $5 to $650. The cost of a GHIN card has been reduced from $24 to $20 as the MSGA gave us a similar price break. All other prices remain the same and can be found on our pricing page. We do want to emphasize our cumulative membership, which allows you to pay off the membership as you play from opening day to 1 July. You just pay the daily fee as you golf during that period. We keep track of what you pay and on or about 1 July, we will tell you what you have paid to date towards the membership. If you want to pay the balance at that time, you'll be a member. If you believe that it is not worth it to you to pay the difference, then you can just continue to pay the daily fee as you play the rest of the season. Some of the benefits of being a member is that rental carts and driving range balls are less expensive.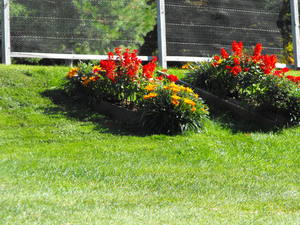 If you are 72 or older and were a member last year, your membership price will not change from the price you paid last year.
We do have five play cards for both 9 and 18 holes which are a bit less expensive than the normal daily fee. And we have similar cards for the driving range (small and large baskets) which give you six baskets for the price of five. These cards make nice gifts.
We again intend to have agreements with several other courses so that you can take your membership and $10 or $15 to those courses and play 18 holes, driving carts extra. I think we had agreements with nine courses last year.
Our after 5pm rate will continue to be $10 for all one can walk until dark.
Winners of the 2016 President's Cup were Charlotte Hall and Paul Tanguay. The 2016 Club Champions were Charlotte Hall, Buddy Rollins (open), Bill Fairchild (advanced adult) and Jim Arsenault (super advanced adult). Freeland Smith took the 90 years and older contingent. Congratulations to all of them.
There were five holes in one registered at Cobbossee in 2016. Congratulations to Atty Lawrence, Colin Roy, Chris Pellerin, Arlene Amos, and John Dunn. The Mens' League winning team was composed of Buddy Rollins, Barry Pulsifer, Ken Carlson, and Dave Sheperd. Peggy Kilton was chosen by the Ladies League for the annual Barbara Fogg Award.
Have a good golf season. Work on improving your game, maintain your sense of humor and continue to be nice to others.
&nbsp
&nbsp
&nbsp
&nbsp